Post by NewMan™ on Jun 30, 2009 22:35:08 GMT -5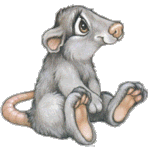 The Telescope
A mouse named Joe yelled "Hey Wait!
You won't believe what I see
There is an Angel sitting on a gate
And I think she's thinking about me"
The other mice just laughed at Joe
A couple fell onto their knees
Daddy Rat said, "Come on lets go
We have to find more green cheese"
For he knew Winter would soon be around
And they were their colonies last hope
But then, Little Joe had found
The abanded telescope
It was left on the Moon by some astronaut
"A hundred years ago", someone guessed
For a moment all the little mice forgot
That they were on a cheese gathering quest
"Hold on a minute, let me see that please"
Daddy Rat said to his little raiders
"We could always use it to find the cheese
That is burried deep in the Moon's craters"
'No you can't" Little Joe screamed
"OOh please don't do that, Sir
You see the Angel on the gate is just like I dreamed
And I think I'm in love with her"
"But Little Joe, the cheese awaits
With your telescope it will be easier to find
Besides, the Angel you see sitting on the gate
I'm afraid is all in your mind"
"But she's real! Just look and see"
Little Joe pleaded his case
"And if she isn't there and you don't believe me
Then you can move the telescope anyplace"
Daddy Rat wobbled over to the telescope
And he crouched down upon his knees
Joe said, "Do you see it?" Daddy Rat said, "Nope"
And that is when someone else sneezed
Daddy Rat was startled, fell off his knees
The telescope went spinning off it's base
When it stopped turning, they could all see
It had turned itself about face
Instead of pointing up at the stars
It now pointed down into the crater
Daddy Rat said, "Boys, I thought I saw Mars
But I'll have to tell you about that later
For right now I'm looking at alot of Green Cheese
So lets get busy and take it all home"
Little Joe just sat there, on his knees
He said he wanted to be left alone
The rest of the day, he spent searching the sky
Till the light of the Sun went out
He knows the Angels up there, but he doesn't know why
Or just what she's thinking about...
~~~~~~~~~~
If you want to see what Little Joe saw thru his telescope,
just scroll down...