Post by Dr Fogg on Jul 15, 2009 15:24:00 GMT -5
Black (or Blood) Pudding
This is a traditional Scottish or Northern English pudding and takes the form of a very thick sausage usually sold in about 12 inch lengths. It is mainly sliced and fried to accompany bacon and eggs at breakfast time. Mmmmmmmmmmmmmm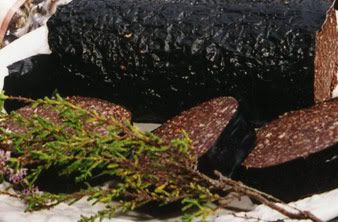 First catch your pig.
Dispatch him humanely
Cut his throat and catch the blood
Take one gallon of blood(strained)
and mix in.....
3 lb Oatmeal
3lb Pork fat (cubed into small pieces)
Tablespoon of each, Mace, allspice, black pepper,salt.
Adjust the consistency to that of thick porridge by either
adding more oat meal or blood.
Thoroughly wash about 20 feet of ox (cow) intestines.
Now comes the tricky part, getting the mixture into the intestines.
At first i found this extremely challenging, trying to fill the slippy intestines by hand is rather messy. In no time i was so covered in blood my kitchen looked like the film set for Apocalypse now. The intestines are slimy and refuse to open enough to get the mixture in. Without a sausage making machine i was sunk, until inspiration struck. I ran out to my garage and found my decorators caulking gun and washed out an empty tube of caulking (Don't use a silicone one it wont wash out). I unscrewed the nozzle and used this device without one. Fill the gun cartridge, slip and intestine over it and start pumping. Brilliant!!!!!!
Every 12 inches tie off with sting to make puddings of about 2inches wide. You should get about 15 or twenty puddings.
Now they need to be boiled for around 20 minutes, prick the skins in a few places or they will exploded and you will look like one of Saddam's brothers after he'd been through the meat grinder.
Allow to cool then freeze, use as required.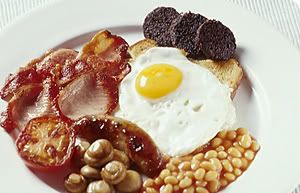 My butcher got me a huge bag of oatmeal and the ox intestines. The only problem was that the intestines come salted to preserve them and the minimum quantity was several pounds in weight. Enough to puddingise the entire country. They were however very cheap so I threw away the surplus.