Post by NewMan™ on Dec 2, 2009 8:08:54 GMT -5
Hot Rodding
ⓢ - ⓡ - ⓢ - ⓡ - ⓢ - ⓡ - ⓢ - ⓡ - ⓢ - ⓡ -
Come on baby,
Hop inside
Let me take you
For a ride

Tires are spinning
On with the show
Let your hair down
Time to go..

HOT RODDING...
#1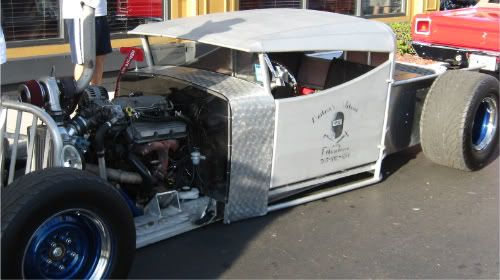 In 1965
Wild and alive
Johnny built the hot rod
He wasn't much of a scholar
Wouldn't wear a shirt with a collar
Johnny learned to fear God
Hot rod painted white
Tore up the streets at night
In her home town he was territorial
He lost only one street race
The night the police gave chase
He lives forever in a memorial..
#2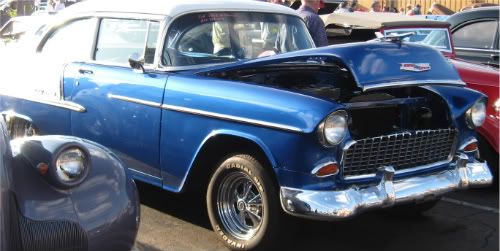 When Bill and Sandy were married
The military carried
Bill far away overseas
At the time, their car was new
Sandy raised their baby, Drew
While she worked on her hands and knees
Bill died in that land afar
Sandy never would sell the car
She remarried, she needed affection
She keeps Bill's picture in the visor
Her new husband is not the wiser
For Sandy, it's her last connection...
#3
In the dark of night he sped along
His mission urgent, the road before him long
The moon but a far away distant star
Gripping the wheel, his fingers red
He couldn't believe the last words he said
This time, he knew, he had gone too far
When he found her, he would apologize
He rubbed his tired, heavy eyes
The motor ran hot, ready to explode
To this hot rod he would be forever indebted
It was his tempter he forever regretted
Behind him, the dust kicked up on the road...
#4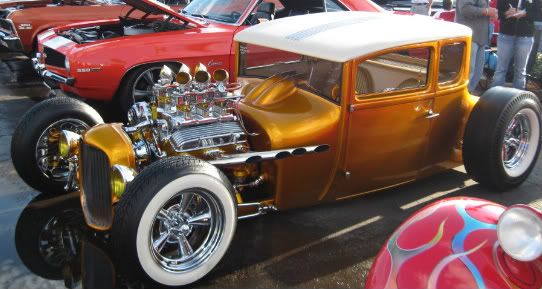 I'm a golden man, I worship a golden God
I cruise Sunset strip in my golden hot rod
The girls all call me Mr. Gold
I open the door, they scream and shout
I say, "Hop in baby, you better watch out
Here is my hand, why don't you grab hold"
Most of the girls fall under my spell
But once in awhile, there is ones who can tell
That all that glitters is really only a show
They are the girls that keep walking on by
It confuses me, because I don't know why
But these are the girls I would like to get to know...
#5
Old John Joseph lived a long life
Two sons and a beautiful wife
Lost them all in a fire in 64
He was out of town, taking a company test
Spent the next 40 years sad and depressed
He didn't love his life anymore
Then something happened five years ago
He restored his old car, put in in a show
It got alot of attention, although it never won
He still lives alone, he never moved far
He feels his family next to him when he works on the car
Finally he has found a way that he can move on...
#6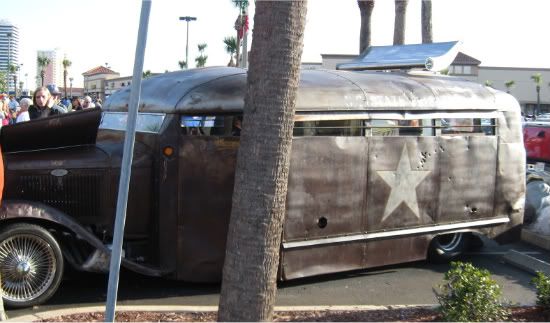 In the world of tomorrow, you better beware
Zombies on the ground, nuclear clouds in the air
The end of days is truly upon us
But the resistance is alive, 8 people strong
Trying to right a world gone horribly wrong
You will know us by the star on our bus
There is no more gas, but we found in the soil
A new power source that acts alot like oil
However it's as rare as a four leaf clover
We hide from the soldiers, the occupational force
While we kill zombies with no remorse
Cause we know if we fail, it's all over...
#7
In the real world, I drive a Honda Accord
Nothing fancy, about all I can afford
It gets me to the places I need to be
But if money was truly of no concern
And I could have any car regardless what I earn
Then I would have to say, this is the car for me
I would use it too cruise too my work
Park in the best spot (why not be a jerk?)
With class everyone would see me arrive
When my boss came outside, I would start to grin
Like a broken record, say again and again
"It sure beats that old car that YOU drive!!"
So come on honey,
Sit right down
Lets go for a ride
Lets cruise this town

You sure look great
With your hair free and flowing
Tomorrow it's back to work
But today we are going..

HOT RODDING...
(c)'o9
Every Thanksgiving, my town hosts the "Turkey Rod Run" where thousands of hot-rods come to town for a weekend of shows, parades and great times. This is the first year I remembered to take my camera with me..