Post by NewMan™ on Oct 11, 2009 2:18:11 GMT -5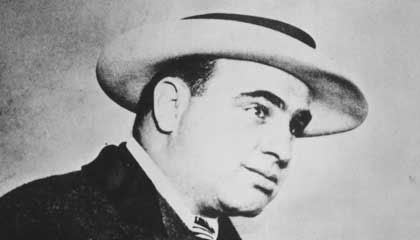 G A N G S T E R
H E A R T
1936

My dearest Mae,
For over three years I've been locked away
I keep to myself night and day
They say I'm a bad man, even a mad man
But you know since time began,
I've loved you in every way..

(I think I'll write you a song...)

Thank you for the letters you send
Your sisters wedding I wish I could attend
But it's an eleven year sentence
I have eight more of repentance,
Mae, your my only friend..

(For me, honey, please stay strong...)


Your my inner strength, the one the Fed's couldn't kill
In our long marriage, you could always feel
My heart when it went black
Soon, love I'll be back,
I need you to hold on Mae, it won't be long untill..

(I'll be back home with my favorite gal...)


I play my banjo for a spell
In the darkest part of my cell
I reflect inside my past
Memories short, memories vast,
So dark in the Alcatraz hotel..

(Lights out, I love you, your Al...)
[/i]
1922

Let Dean O'banion have his flower
Let him think he has true power
But with the mistakes he is making
He's going to mind up taking,
A mid afternoon lead shower..

(Wouldn't that be a shame? boys...)

And old man Torrio doesn't understand
Prohibition creates for us a demand
If he is not going to think large
Maybe someone else should be in charge,
I think it's time we take a stand..

(We can soon own all of Illinois...)

But the most important part of my plan
Is taking care of Bugs Moran
He's already tried to kill me twice
On his head I place a price,
A reward, for whoever kills this man..

(Don't worry, your actions won't be libel..)

I want him dead! So I can engrave
My initials in stone on his grave
I want him to feel the end of my knife
As I watch him beg for his life,
A lock of his hair, you can save..

(So I can put it in my family bible...)
1937

Mae honey,
I've never found it funny
The lengths people will go to extort money
Be careful when in town
Always look the streets up and down,
When you can, take Sunny..

(How is my boy doing? anyway...)

I had a close call, not as bad as it appears
Last week someone took a pair of shears
While in line, they made their attack
They managed to stab me in the back,
It's the first scar I've had, in years..

(but don't you worry Mae...)

Remember when I said I would write you a song?
Well, slowly the words are coming along
I'm finished with the verses
Listened as the band rehearses,
But I feel the chorus just sounds wrong..

(It just carries the wrong tone...)

It would be kind on your next visit to bring
For my banjo, a new steel string
Maybe I can show you what I've written
While you are inside with me, sitten,
That is, if you don't mind listening to me sing..

(Sincerely, your husband, Alphonse Capone...)
[/i][/left]
1929

This mornings paper brought me some good news
Seems my old rivals in Chicago were buying some booze
When the cops rounded them all
Lined them up against the wall,
And shot them dead, what a ruse..

(Then they left, very discretely...)

Be sure to send flowers and a card
To Bugs Moran with my regard
Write: "Sorry about your loss
Maybe now you see who's boss,
Looks like you need a new bodyguard..."

(Or get out of the racket completely...)

Boys, I have to do some confess'en
I ordered that hit to teach Moran a lesson
He tried to kill me, but he missed
Now he has felt the Capone iron fist,
And he knows exactly who it is that he is mess'en..

(And in a grave he too, soon, will rot...)

And if the Feds think they can connect
Me too these killings, I'll just object
I've been in Florida all month long
Plenty of witnesses, my alibi is strong,
They better find themselves another suspect..

(Cause Big Al ain't never gonna get caught...)
Christmas, 1938

My dearest Mae, at the very least
They say inside two years I'll be released
Ooh, remember your song? it's through
But because of prison rules, I can't give it too you,
So I'll have to give it too a priest...

(I hope you like the idea...)

It's the song of a woman who holds a mans heart
She keeps it warm while they are apart
Ooh Mae, if only I could make up
Those years it took me to wake up,
But I can't, my love, so this song is a start..

(It's for you, I call it Madonna Mia...)
[/color][/i][/left]
Madonna Mia
(
written by Al Capone, 1938
)
In a quaint Italian garden
While the stars were all aglow
Once I heard a lover singing
To the one that he loved so
In that quaint Italian garden
Neath the starry sky above
Every night he'd serenade her
With his tender song of love
Madonna mia
You're the bloom of the roses
You're the charm that reposes
In the heart of a song
Madonna mia
With your true love to guide me
Let whatever betide me
I will never go wrong
There's only one moon above
One golden sun
There's only one that I love
You are the one
Madonna mia
This I vow here before you
Till the end I'll adore you
Madonna mia
Once again I see that garden
Many years have hurried by
I can see that sweet Madonna
There's a teardrop in her eye
For her soldier has departed
Left his loved one with a sigh
She said "I will wait forever"
As he sang this last goodbye.
Madonna mia ...
Al Capone married Mae Josephine Coughlin in 1918, she was the love of his life, staying with him till the end. Al died in 1947 after spending eight years in prison for tax evasion. It is rumored, visitors to Alcatraz today can still hear the sounds of banjo music coming from the cell he lived in for over five years.
(c)'o9